Boeing delivers 150th P-8 maritime patrol aircraft
The newest Boeing P-8 maritime patrol aircraft (MPA) took to the skies over Puget Sound bringing the total number of P-8s delivered to 150.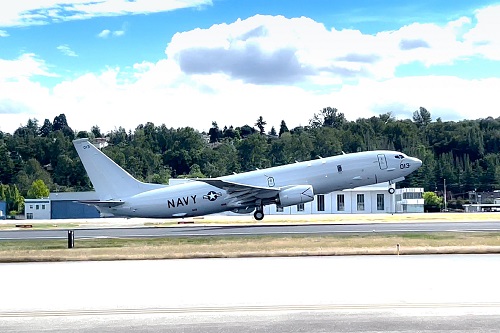 The latest MPA will be operated by US Navy's Air Test and Evaluation Squadron (VX) One based at Naval Air Station Patuxent River, Maryland.
Boeing emphasized that the global P-8 fleet includes 112 aircraft delivered to the US Navy, 12 to Australia, 12 to India, nine to the UK and five to Norway.
The aircraft is designed for anti-submarine warfare; anti-surface warfare; intelligence, surveillance and reconnaissance and search and rescue.
The 150 P-8s in service do not include six test aircraft provided to the US Navy during the initial stages of the program. Boeing tested those aircraft during development to assess capabilities and performance.
Four month ago, the Indian Navy welcomed its final MPA. The aircraft is the fourth of four additional aircraft delivered under the options contract signed by the Indian Ministry of Defence in 2016.
Meanwhile, the company started the construction of the New Zealand's first P-8A maritime patrol aircraft in March 2022. In total, four Boeing P-8A Poseidon maritime patrol aircraft will eventually replace New Zealand's current fleet of six ageing P-3K2 Orion aircraft providing capabilities to maintain situational awareness in neighboring waters on and below the surface of the ocean.
Boeing expressed also its intent to offer P-8A Poseidon in response to Canada's request for information (RFI) for long-range maritime patrol aircraft.