US Navy's San Antonio-class amphibious transport dock USS Fort Lauderdale (LPD 28) departed from Huntington Ingalls Industries' (HII) Ingalls Shipbuilding division en route to its commissioning site in Fort Lauderdale, Florida.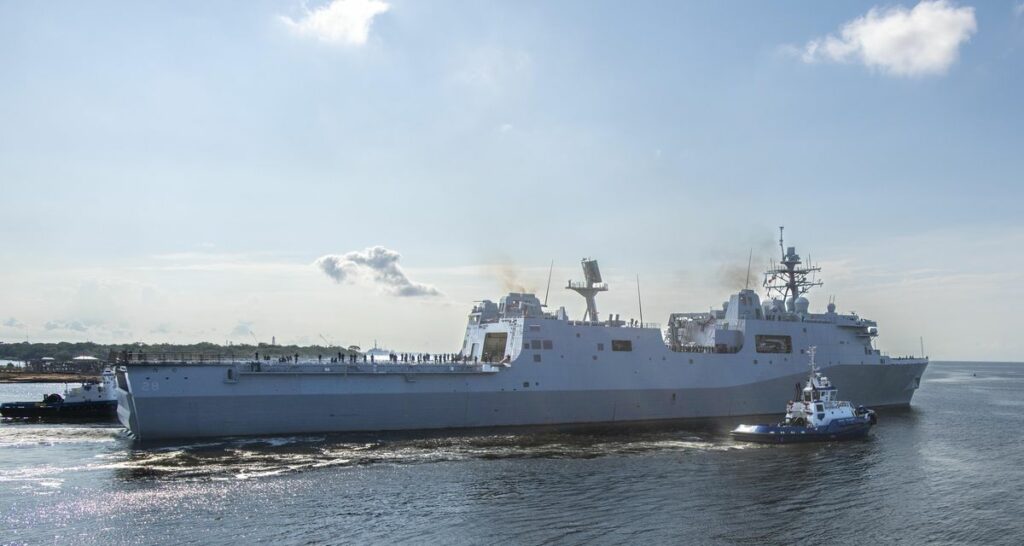 As informed, the vessel departed the shipyard on Monday (11 July). Fort Lauderdale was delivered to the US Navy in March following acceptance sea trials and is the 12th San Antonio-class ship delivered by HII.
Prior to delivery, the ship successfully conducted a series of at-sea and pier-side trials to demonstrate its material and operational readiness. 
"Ingalls Shipbuilders take great pride in knowing that each and every amphibious ship that leaves this shipyard will support our Navy and Marine Corps team defending our nation," Ingalls Shipbuilding President Kari Wilkinson said.
LPD 28 is scheduled to be commissioned on 30 July in Fort Lauderdale. It is named to honor the Florida city's historic ties to the US Navy, which date back to the 1830s and include an important naval training center during World War II.
The San Antonio-class LPDs are designed to support embarking, transporting, and landing US Marines and their equipment by conventional or air-cushioned landing craft.
Additional San Antonio-class ships are under construction at Ingalls, including Richard M. McCool Jr. (LPD 29) and the first Flight II amphibious ship in the San Antonio class, Harrisburg (LPD 30).
Later this year, fabrication will begin on the 15th San Antonio-class ship, Pittsburgh (LPD 31).