Harland & Wolff bags $65M deal to regenerate ex-UK mine-hunting ship
Belfast-based shipyard Harland & Wolff famous for building the Titanic has been awarded a contract to regenerate an ex-Royal Navy mine-hunting vessel, HMS Quorn.
On behalf of the Lithuanian Government, the Defence Equipment Sales Authority (DESA) awarded the contract that will see HMS Quorn renovated and restored under £55 million ($65 million) contract.
HMS Quorn completed 27 years of service with the Royal Navy before being sold to Lithuania in April 2020. The vessel patrolled the seas as part of the Royal Navy fleet of Hunt-class mine countermeasures vessels (MCMVs) until 2017.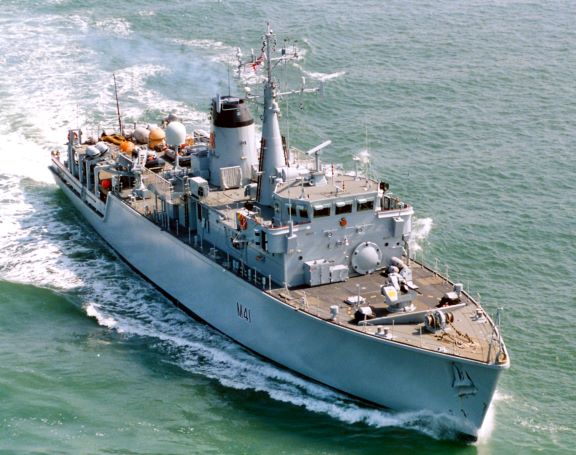 "I'm pleased that this multi-million pound contract will see a former Royal Navy mine-hunting vessel restored and regenerated in a British shipyard, supporting UK jobs and strengthening shipbuilding in the south-west," Minister for Defence Procurement, Jeremy Quin, said.
"The extended process to win the M55 Contract enabled us to showcase the technical and commercial capabilities of the entire group and has now provided the MOD with a credible alternative to the existing industry base. This contract is validation that the Government can go elsewhere, recognising the investment and progress made over the last two years to put Harland & Wolff in a position to execute on such programmes," John Wood, Group CEO of Harland & Wolff commented.
Tailored for the Lithuanian Navy, the work includes upgrades to the ship's mission and sonar systems, and an additional search and rescue capability.
The contract will also add new main engines, generators and propulsion gear as well as refurbish the accommodation, hull, ancillary systems, electrical systems and painting.
It is planned that the ship will be handed over to the Lithuanian Navy in 2024.
HMS Quorn is the third mine-hunting vessel that the UK has sold to Lithuania, following the sale of HMS Dulverton and HMS Cottesmore in 2008.
To remind, last month, Harland & Wolff revealed it bought Royal Navy's former Hunt-class mine countermeasures vessel HMS Atherstone (M38).