Four different USV prototypes participate in RIMPAC manned-unmanned ops
Four prototype unmanned surface vessels are participating in the Rim of the Pacific 2022 (RIMPAC) exercise, delivering warfighting capabilities and extending the reach of the manned US fleet with fewer risks to the warfighter.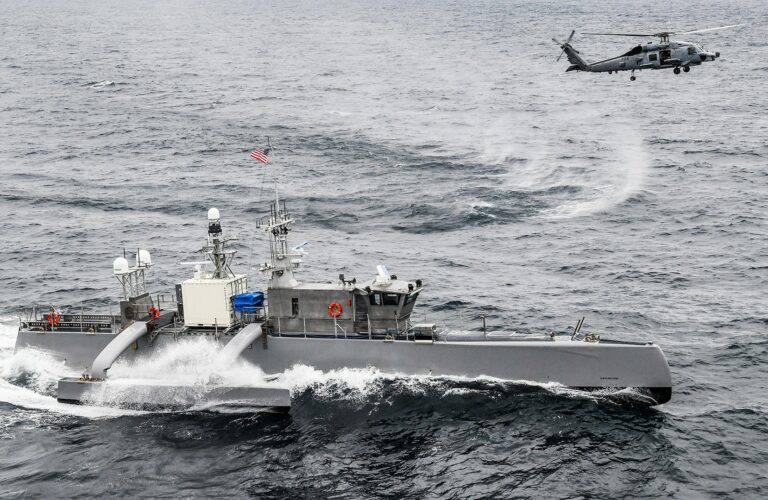 The PMS 406 assets participating in RIMPAC are the overlord unmanned surface vehicles called Nomad and Ranger and the medium unmanned surface vehicles called Sea Hunter and Seahawk. Though primarily operated and maintained under the control of PMS 406, personnel from Unmanned Surface Vessel Division One within Surface Development Squadron One control much of the practical execution.
The vessels will execute a range of missions.
The prototypes will work side-by-side with exercise participants, carrying payloads, providing intelligence, and most significantly, gathering data in a real-world environment to determine how they will function in the larger fleet.
The manned-unmanned team, in the case of RIMPAC, will also include service members and civilians supporting the mission from various organizations all over the country.
"The integration of autonomous USVs with manned combatants will give fleet commanders much-needed enhancements to maritime domain awareness, thereby increasing decision speed and lethality in surface warfare," Navy Capt. Scot Searles, program manager of the Unmanned Maritime Systems (PMS 406) program office said.
"While our prototyping efforts have grown and matured significantly in the last four years, their performance in the RIMPAC exercise marks another significant milestone in manned-unmanned teams."
RIMPAC kicked off on 29 June and will last until 4 August. 26 nations, 38 surface ships, four submarines, nine national land forces, more than 170 aircraft and approximately 25,000 personnel will participate in the biennial drill.
This year's exercise program will include gunnery, missile, anti-submarine and air defense exercises, as well as amphibious, counter-piracy, mine clearance, explosive ordnance disposal, diving and salvage operations.