WATCH: RIMPAC participants sink retired LPD USS Denver
Air, land, and sea units from Japan and the US sank the decommissioned Austin-class amphibious transport dock ship ex-USS Denver (LPD 9) on 22 July.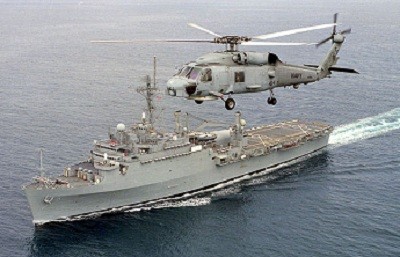 As informed, the multinational partners conducted a multi-domain sinking exercise (SINKEX) in the Hawaiian Islands operating area as part of exercise Rim of the Pacific (RIMPAC) 2022.
From the land, the Japanese Ground Self-Defense Force and US Army shot Type 12 surface-to-ship missiles and practice rockets.
From the air, US Navy F/A-18F Super Hornets assigned to Fighter Attack Squadron 41 shot a long-range anti-ship missile.
Furthermore, the US Army AH-64 Apache helicopters shot air-to-ground Hellfire missiles, rockets, and 30mm guns.
On the other hand, US Marine Corps F/A-18C/D Hornets assigned to Marine Fighter Attack Squadron 232, Marine Air-Ground Task Force 7, fired an air-launched cruise missile, air-to-surface anti-radiation missiles, an air-to-ground anti-radiation missile, and joint direct attack munitions.
Finally, from the sea, US Navy guided-missile destroyer USS Chaffee (DDG 90) shot its Mark 45 5-inch gun.
"This sink-at-the-sea exercise demonstrates current operational capabilities and tactical skills, and provides a valuable opportunity to coordinate and collaborate between Japanese Type 12 Surface-to-Ship Missiles (SSM) and the U.S. Army High Mobility Artillery Rocket System (HIMARS) to conduct a live fire and comprehensive exercise," said Japanese Ground Self-Defense Force (JGSDF) Maj. Gen. Shigeo Kaida, director of the Operations Support & Training Department at the Ground Staff Office in the Japanese Ministry of Defence.
Twenty-six nations, 38 ships, three submarines, more than 170 aircraft, more than 30 unmanned systems and 25,000 personnel are participating in RIMPAC from 29 June 29 until 4 August in and around the Hawaiian Islands and Southern California.
Ex-Denver, the third US Navy ship to bear the name of American pioneer James William Denver and the capital of the state of Colorado, was commissioned in October 1968.
Over its history, the ship played a significant role in several operations, most notably Operation Frequent Wind, the evacuation of Saigon, Vietnam in April 1975.
The ship was decommissioned as the oldest deployable warship in the navy after 46 years of service at Joint Base Pearl Harbor-Hickam in 2014.