PHOTO: USS Gerald R. Ford sharpens its warfare skills in exercise Silent Wolverine
USS Gerald R. Ford (CVN 78), the US Navy's newest and most advanced aircraft carrier, has joined six NATO allies for exercise Silent Wolverine in the Eastern Atlantic Ocean.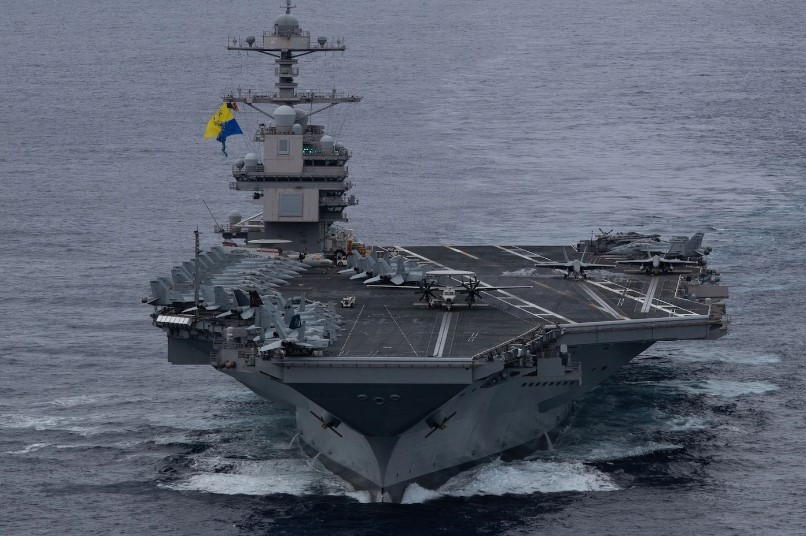 Silent Wolverine tests the first-in-class aircraft carrier capabilities through integrated high-end naval warfare scenarios alongside participating NATO allies. Exercise participants include Canada, Denmark, Germany, France, the Netherlands, Spain, and the United States.
Gerald R. Ford is a first-in-class US aircraft carrier that incorporates 23 new technologies comprised of significant advances in propulsion, power generation, ordnance handling, and aircraft launch systems.
The Ford-class aircraft carrier generates an increased aircraft launch and recovery capability with a 20 percent smaller crew than Nimitz-class aircraft carriers.
Along with their Carrier Strike Group (CSG), this deployment tests Gerald R. Ford's operational readiness and future ability to support combatant command requirements. The CSG's participation in Silent Wolverine previews the decisive, precise, and lethal advantage that Gerald R. Ford brings to future naval operations, according to the US Navy.
The Gerald R. Ford CSG consists of the Ford-class aircraft carrier USS Gerald R. Ford (CVN 78), Ticonderoga-class guided-missile cruiser USS Normandy (CG 60), and Arleigh Burke-class guided missile destroyers USS McFaul (DDG 74), and USS Thomas Hudner (DDG 116). 
The Gerald R. Ford CSG is conducting their first deployment to the US European Command (EUCOM) area of responsibility to exercise with allies.
Recently, the aircraft carrier embarked on its first international port visit in Halifax.