Major UK naval projects that marked 2022 (Type 31 frigate milestones included)
After an unrelenting 2022, there is little let-up in the pace of operations and projects of the Royal Navy, Royal Marines and Royal Fleet Auxiliary. Many of the naval projects marked important milestones this year, including the new Type 26 and Type 31 frigate programs.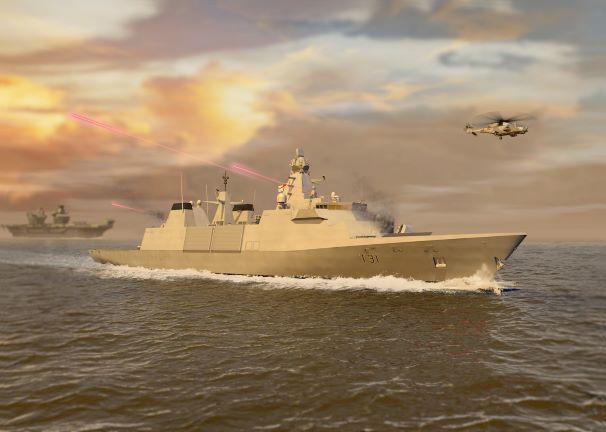 In April this year, construction of the first Type 31 frigate started at Babcock's Rosyth dockyard. HMS Venturer officially started to take shape.
The construction of the Type 31 frigates is part of a wider investment in UK yards and industry under the government's National Shipbuilding Strategy of more than £4 billion over the next three years alone. Royal Navy signed up for five ships.
Each ship is equipped with three Pacific 24 boats, – crucial for board-and-search/counter-narcotics work – a 57mm gun and two 40mm secondary guns, Sea Ceptor air defence missiles – also fitted to Type 23 and 26 frigates – with off-the-shelf sensors and computer systems. And the flight deck can host helicopters up to the size of a Chinook, although more typically Royal Navy Merlins and Wildcats.
UK plans to launch the ship next year, while all Type 31 frigates are scheduled for delivery by 2028.
Meanwhile, Royal Navy's first Type 26 frigate HMS Glasgow has completed the float-off in a deep-water location in the West of Scotland. HMS Glasgow has been under construction since steel was cut in 2017. The second and third ships, HMS Cardiff and HMS Belfast, are currently in build in Govan.
Each of the Type 26 units will be equipped with a range of advanced capabilities including the Sea Ceptor missile defense system, a 5-inch medium caliber gun, flexible mission bay, Artisan 997 Medium Range Radar and towed array sonar. Moreover, they will be armed with the future cruise/anti-ship weapon (FC/ASW).
The vessels are designed or anti-submarine warfare and high-intensity air defence, but can adapt its role quickly to transport high volumes of humanitarian aid and house medical facilities.
Last month, shipbuilder BAE Systems received a £4.2bn contract to BAE Systems to manufacture the next five City-class Type 26 frigates for the Royal Navy in Glasgow.
Besides Type 26 and Type 31 frigate programs, the Royal Navy worked on several other naval projects. This year, the navy unveiled a new testbed ship to support trials of the latest tech and autonomous systems.
NavyX, the Royal Navy's innovation, autonomy and lethality accelerator which has been established to rapidly develop, test and trial new equipment, ran an open tender process which resulted in an order being placed with Damen Shipyards in the Netherlands earlier this year for the delivery of a fast crew supplier (FCS) 4008.
At the beginning of this month, the navy ordered its first crewless submarine from Plymouth-based company MSubs to shape the future of underwater warfare. The £15.4 million Cetus will be the largest and most complex crewless submersible operated by European navies, designed and built especially for the Royal Navy. At 12 metres long and 2.2 metres in diameter, the 17-tonne submarine can fit inside a shipping container and be transported around the world to wherever the fleet needs it.