Construction starts on Polish Navy's 1st Miecznik frigate
Polska Grupa Zbrojeniowa (PGZ) has held a steel-cutting ceremony for the Polish Navy's first Miecznik frigates which are based on Royal Navy's Type 31 frigate design.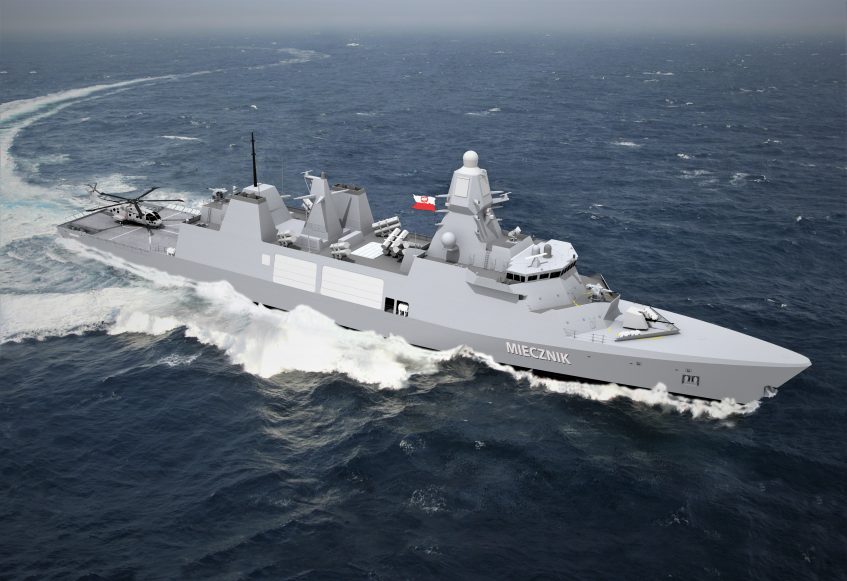 The ceremony marks a new stage in the implementation of the Miecznik program. Poland has selected Babcock International's Type 31 frigate design (known also as Arrowhead 140) for its new Miecznik frigate program.
Three modern Miecznik frigates for the Polish Navy will be built at PGZ in cooperation with defence companies Babcock, MBDA, Thales, Remontowa Shipbuilding, as part of the largest contract ever awarded to the Polish shipbuilding industry. The first frigate will be built by 2026. The Miecznik program is being implemented according to the schedule, according to the company.
Multi-purpose units of this class are expected to increase the capabilities of the Polish Navy and will allow for the implementation of a wide range of tasks at sea, including in the field of securing shipping routes and critical infrastructure. 
The multi-purpose frigates will be equipped with modern radar, artillery and missile systems. Thanks to these ships, the Polish Navy will gain new opportunities to perform a wide range of tasks in Polish sea areas and participate in missions and exercises organized with NATO allies.
Meanwhile, Polska Grupa Zbrojeniowa has signed a strategic agreement with UK's Babcock International aimed at establishing a joint venture, strengthening the strategic partnership between the companies. The established entity will not only enable more effective cooperation as part of the implementation of the Miecznik program, i.e. the construction of a Polish frigate and the potential development of wider international opportunities, but ultimately it is to open a partnership ground in other maritime programs by optimizing the resources, capabilities and infrastructure of both parties.