Damen: South African Navy's 1st new inshore patrol vessel christened
On 12 February 2021, the South African Navy (SAN) held a blessing ceremony of the first of three Project BIRO multi-mission inshore patrol vessels (MMIPVs) at Damen Shipyards Cape Town (DSCT).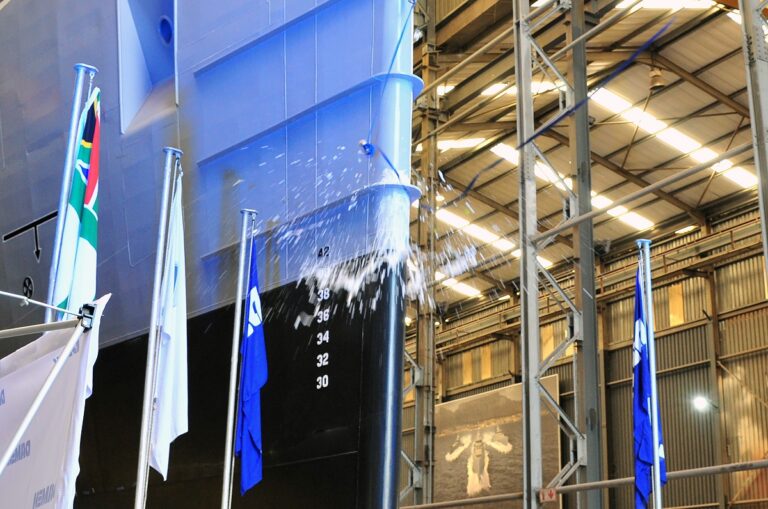 Due to the situation surrounding the coronavirus pandemic, the navy decided to organize only a small-scale event.
During the ceremony, the vessel was blessed and a bottle of champagne was broken over the bow as is the custom. The South African flag was raised on the newbuild which was cheered by its crew.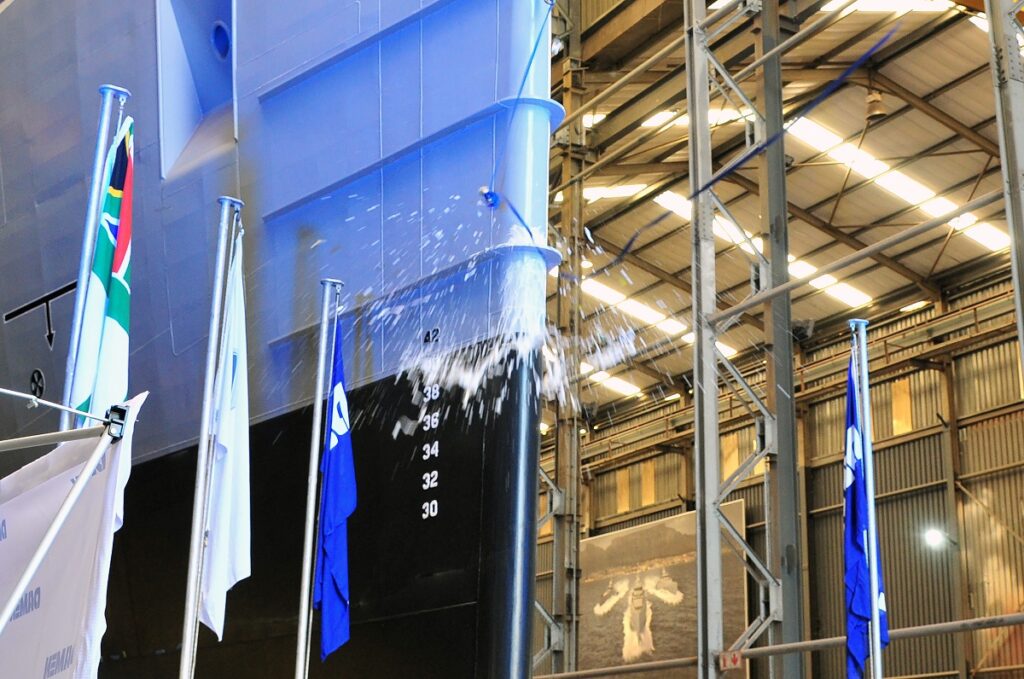 "Despite the low-key nature of the event, this remains a momentous occasion – the blessing of the first of these three important vessels that we are building in Africa for Africa," Sam Montsi, Director at DSCT, commented.
The MMIPVs will contribute to South Africa's maritime security in augmenting the country's capability to respond effectively, rapidly, and cost-efficiently to threats such as illegal trafficking and fishing.
"Today marks another milestone in the history of the SA Navy. To think where this first MMIPV might end up in history is exciting. This vessel will be crucial in search and rescue operations and a critical link in security operations. The reconfigurability of the ship makes it a force multiplier in any littoral environment for the SA Navy," Vice Admiral Mosiwa Hlongwane, Chief of the SA Navy, said on the occasion.
Project BIRO vessels
Back in 2018, South African defense procurement agency Armscor awarded contracts for the construction of three 62-meter-long ships to Damen.
The IPVs will be the first vessels of a Damen Sea Axe design to operate in South Africa.
The straight-edged, axe shaped bow cuts through the water, minimising slamming for improved safety and comfort on board and significantly reduced fuel consumption and emissions, according to Damen.
In August 2020, DSCT held a keel-laying ceremony for the second of the three units.