Report: Canadian Surface Combatant fleet to cost at least C$77.3 billion
A fleet of fifteen Type 26 frigates planned to be built for the Royal Canadian Navy will cost C$77.3 billion (about $62 billion), a new report shows.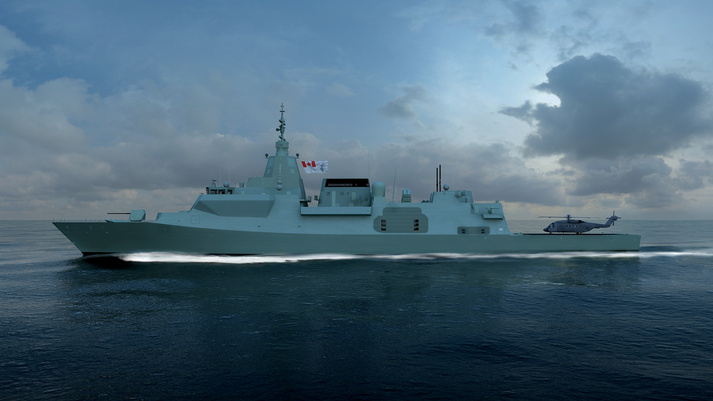 The report, The Cost of Canada's Surface Combatants: 2021 Update and Options Analysis, examines the cost of the existing CSC program, which is intended to replace both the current fleet of Halifax-class frigates and three decommissioned Iroquois-class destroyers with a new fleet of 15 warships, based on the Type 26 ship design.
The navy's future Canadian Surface Combatants will be constructed by local shipbuilder Irving Shipbuilding. Back in October 2018, Canada and the shipbuilder selected BAE's Systems' Type 26 frigate design for the newbuilds.
"We estimate the fleet of new ships, based on the Type 26 design, will cost $77.3 billion to build", Yves Giroux, Parliamentary Budget Officer, said.
"A one-year delay would increase that cost to $79.7 billion, and a two-year delay would see the cost rise to $82.1 billion."
The PBO's latest cost estimate to build the Type 26 ships shows an increase of $7.5 billion over his 2019 estimate due to updates in the ship's specifications and production timelines.
The report also presents a cost analysis of two other ship designs — the FREMM European multi-mission frigate and the Type 31e, a class of general-purpose frigates planned for the United Kingdom's Royal Navy.
The cost of acquiring 15 FREMM ships is estimated at $71.1 billion, while the cost of a fleet of 15 ships based on the Type 31e design is estimated at $27.5 billion.
These estimates are inclusive of cancellation costs, running a new competitive design selection process, and an additional four-year delay in the start of construction. It is important to note that these ships have different characteristics and capabilities, according to the report.
The report also considers the cost of a mixed fleet — three of the Type 26 ships and 12 ships of either of the alternate designs.
Under this scenario, the costs increase to $71.9 billion for the mixed FREMM fleet, and $37.5 billion for the mixed Type 31e fleet.
The construction is expected to start in 2023/2024, the Department of National Defence said in a separate statement.