Russian Navy's frigate Admiral Gorshkov conducts artillery firing in Barents Sea
The crew of the Russian Navy's frigate Admiral Gorshkov has performed practical firing with an artillery complex at conventional sea and air targets.
The artillery firing was conducted as part of the exercise in the Northern Fleet with the Arctic expeditionary group and the training of forces and troops.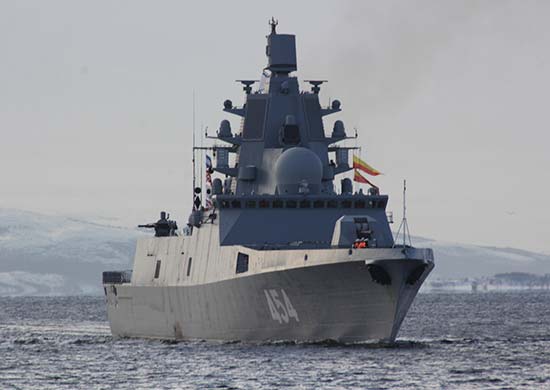 Combat exercises by the crew of the frigate were worked out in the Barents Sea in the ranges of the fleet, closed for civilian shipping. According to the plan of the exercise, the ship carried out a reflection of the attack of boats and means of air attack of a mock enemy.
The exercise with the Arctic expeditionary group is being held under the leadership of the Commander of the Northern Fleet. It involves up to 1,200 personnel, about 140 units of combat and special equipment, up to 20 aircraft, up to 30 ships, submarines and support vessels.
According to the Russian Navy, the main focus of the exercises, planned for January and February this year, is interoperability of Navy and Aerospace Forces, as well as countering "military threats to the Russian Federation from sea and ocean directions."
Admiral Gorshkov-class frigates (project 22350) are built by Severnaya Verf OJSC for the Russian Navy. The new multirole, long-range frigates can be deployed in anti-submarine warfare and escort operations.
In October 2005 the Russian MoD contracted Severnaya Verf for the construction of the lead frigate, Admiral Sergei Gorshkov. The vessel was named after the commander-in-chief of the Soviet Navy. The frigate is the first long-range maritime surface vessel being built for the Russian Navy in 15 years.
The keel-laying ceremony for Admiral Sergei Gorshkov was held in Severnaya Verf Shipyard in St Petersburg in February 2006, while the ship was floated out in October 2010. The commissioning ceremony took place in July 2018 in St. Petersburg.