U.S. Navy commissions new Virginia-class fast attack submarine
The U.S. Navy commissioned the newest Virginia-class fast attack submarine USS Oregon in a traditional ceremony held on Saturday, 28 May, at Naval Submarine Base New London, in Groton, Connecticut.
The event, which took place during the Memorial Day Weekend, is the first in-person submarine commissioning ceremony since the commissioning of the USS South Dakota in February 2019.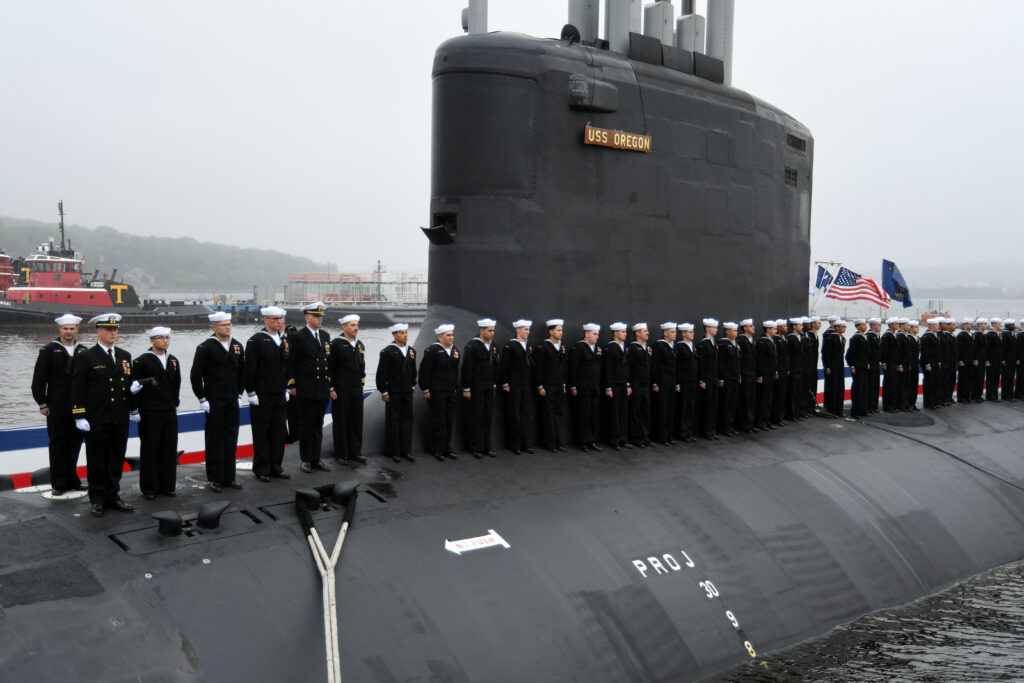 This is the third U.S. Navy ship launched to bear the name Oregon, but the first in more than a century. The first, named after the Oregon Territory before Oregon became a state, was a brigantine in service from 1841-to 1845. The second was an Indiana-class battleship commissioned in 1896 and ultimately decommissioned for the final time in 1919.
USS Oregon is 377 feet long, has a 34-foot beam and is able to dive to depths greater than 800 feet and operate at speeds in excess of 25 knots. She has a crew of nearly 140 Navy personnel.
The submarine was previously christened in a traditional ceremony at General Dynamics Corp.'s Electric Boat shipyard in Groton, Connecticut, on 5 October 2019 and delivered to the U.S. Navy on 26 February 2022.
Dana L. Richardson, the wife of former Chief of Naval Operations Adm. John Richardson, is the ship sponsor. During Saturday's commissioning event, Dana Richardson gave the crew the traditional order to "man our ship and bring her to life," after which Oregon's Sailors ceremonially ran aboard the submarine.
The ship is the 20th Virginia-class submarine and the second of the Block IV Virginia-class submarines.
"Oregon and the other Virginia-class submarines will not only sustain but exploit our edge in undersea warfare," said Adm. Frank Caldwell, director of the Naval Nuclear Propulsion Program. "Soon Oregon will employ her stealth, her flexibility, her superior firepower and her endurance to travel silently throughout the world's oceans undetected, collecting intelligence, preparing for battle and – if necessary – striking from the deep swiftly without warning to answer the nation's call."
Fast attack submarines are multi-mission platforms designed for anti-submarine warfare, anti-ship warfare, strike warfare, special operations, intelligence, surveillance and reconnaissance, irregular warfare and mine warfare.
About a month ago, the U.S. Navy's Virginia-class submarine New Jersey was launched into the James River at the Huntington Ingalls Industries' (HII) Newport News Shipbuilding division and in March, HII delivered USS Montana, the third of ten Block IV Virginia-class submarines, to the Navy.