Two new nuclear-powered submarines join Russian Navy
Two new nuclear-powered submarines Knyaz Oleg and Novosibirsk built by Sevmash, a division of United Shipbuilding Corporation (USC), have joined Russian Navy's fleet.
The delivery ceremony took place on 21 December in which Russia's President Vladimir Putin took part via videoconference. The submarines are the first of the Yasen-M and Borei-A class series.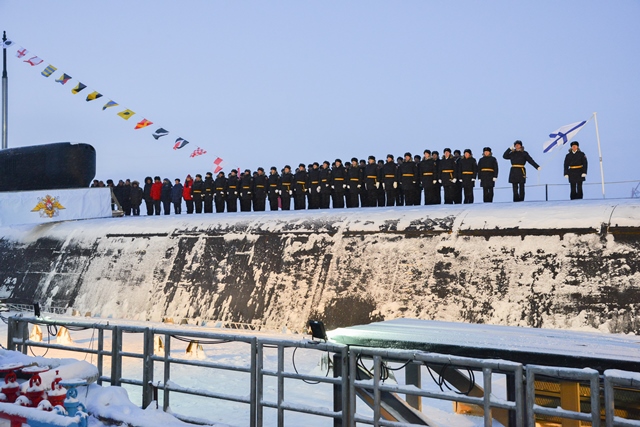 Nuclear-powered submarine Knyaz Oleg, a Project 955-A Borei-A class nuclear-powered ballistic missile submarine, was laid down in July 2014 and launched in July 2020. The submarine was designed by Rubin Central Design Bureau. In January this year, the company was contracted to build two more Borei-A ballistic missile submarines for the Russian Navy.
The first vessel of the Borei-A class submarine, Knyaz Vladimir, was delivered last June after several delays due to deficiencies found during sea trials.
A total of eight modernized Borei-A submarines are planned to be built at the Sevmash yard in Severodvinsk.
Further on, nuclear-powered submarine Novosibirsk, the fourth generation nuclear-powered submarine of Project 885M Yasen-M design was laid down in July 2013 and launched in December 2019. The vessel completed sea trials in August this year.
With a submerged displacement of 13,800 tons, Project 885M submarines are armed with 24 Oniks (SS-N-26) and Kalibr (SS-N-27) cruise missiles in addition to torpedoes. They are reportedly one of the quietest submarines to be operated by Russia.
The first submarine in the class, Severodvinsk, was delivered to the Russian Navy in 2013, twenty years after it was laid down in 1993. Following sea trials, the submarine was commissioned in 2014.
"The new submarines have a formidable striking power. Knyaz Oleg is equipped with Bulava ballistic missiles while all-purpose submarine Novosibirsk has Kalibr and Oniks cruise missiles and is able not only to effectively neutralise sea-based targets, but also to deliver high-precision strikes against targets on land," Putin stated.
Deputy Minister of Defense of the Russian Federation Alexei Krivoruchko added that for the first time in several decades, the navy has accepted two nuclear submarines at once.