Russian Navy's operations restrict shipping in Sea of Azov amid conflict with Ukraine
The Federal Agency for Maritime and River Transport (Rosmorrechflot) confirmed that navigation in the Sea of Azov was suspended after a warning was issued by the Russian Defense Ministry, the agency press service told Interfax.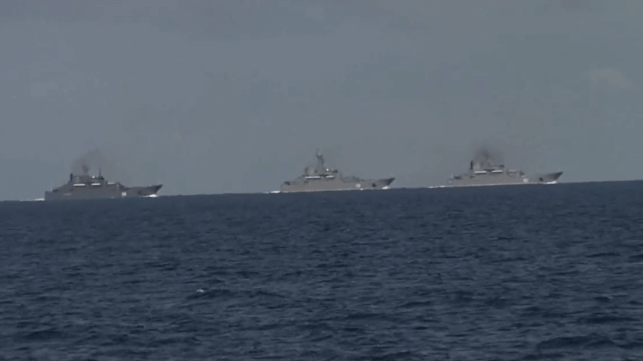 "Due to a warning received from the Russian Defense Ministry's Black Sea Fleet amid the beginning of antiterrorist operations at 4 a.m. on February 24, navigation in the Sea of Azov was suspended until further notice," the agency noted.
The notice was issued after Ukrainian president Volodymyr Zelenskyy revealed that Russia launched a military operation against Ukraine this morning. He further said that Russia had conducted strikes on military infrastructure and on border guards in the Donbas region.
Earlier on, reports revealed that a number of Russian naval vessels entered the Sea of Azov on 21 February. According to Militarnyi, the flotilla included Ropucha-class landing ships Novocherkassk and Caesar Kunikov, and Alligator-class landing ship Saratov accompanied by a missile corvette and patrol vessels.
Russian Navy has been conducting exercises since January which involved more than 140 warships, 1,000 pieces of military equipment, 10,000 troops and 60 aircraft.
The main focus of the exercises, planned for January and February this year, is interoperability of Navy and Aerospace Forces, as well as countering "military threats to the Russian Federation from sea and ocean directions", Russian officials emphasized.
On 11 February, the Russian Navy reported that its Black Sea Fleet has been practicing a comprehensive tactical exercise to protect naval ships' bases from enemies in Crimea and the southern Krasnodar Region.
The crews of Slava-class cruiser Marshal Ustinov and Admiral Gorshkov-class frigate Admiral Kasatonov aided by a specially equipped anti-submarine helicopter Kamov Ka-27practiced operations to locate potential enemy submarines.
In January, a detachment of ships of the Baltic and Northern Fleets, consisting of six large landing ships, left the port of Baltiysk and proceeded to move to the exercise area in the Mediterranean Sea.
Since then, the warships and support vessels of the Russian Navy's Northern Fleet conducted anti-submarine drills in the Norwegian Sea.