First FDI frigate built by Naval Group for Hellenic Navy hits the water
Naval Group has launched HS Kimon, the first FDI frigate built for the Hellenic Navy, at its shipyard in Lorient, France.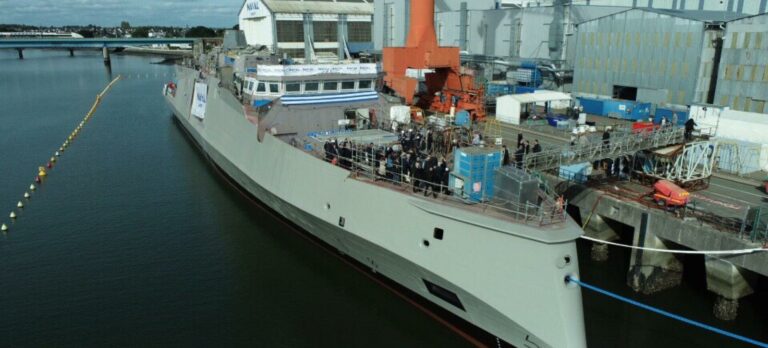 The launching ceremony of the frigate was held on October 4, 2023, in the presence of Sébastien Lecornu, French minister of the Armed Forces, and his Greek counterpart, Nikolaos Dendias.
The launching of the FDI frigate Kimon was described as a major industrial and symbolic milestone in the FDI program for the Hellenic Navy. The contract for the procurement of three frigates, plus one optional, was signed with Grece on March 24, 2022. All three frigates are in production.
The shipbuilder said the first pre-outfitted block of the second unit HS Nearchos has just been transferred into the dry dock for the keel laying, and the first steel-cutting of the third HS Formion frigate occurred on July 12, 2023.
The next steps for HS Kimon are the first sea-going scheduled for 2024, and the delivery in 2025.
The HS Kimon frigate is a 4,500-ton class high sea warship. It is multipurpose and resilient, featuring high-level capabilities in all naval combat domains: anti-ship, anti-air, antisubmarine, and special forces projection, with unique capabilities against asymmetric threats.
Strongly armed (MBDA Exocet MM40 B3C anti-surface missiles and Aster anti-air missiles, RAM systems, MU90 antisubmarine torpedoes, artillery), the HS Kimon frigate embarks simultaneously a helicopter and a capacity of aerial vehicle (UAV), Naval Group said.
"Greece has honored Naval Group by choosing the FDI vessels to renew its combat fleet for the Hellenic Navy. This launching is another important step in our strong cooperation with Greece, as it marks the symbolic birth of the HS KIMON frigate for her first contact with the sea. It is also a concrete illustration of Naval Group's commitment to supporting robust industrial cooperation with the Hellenic industry, growing stronger every day. Naval Group is proud to be moving forward together with all of its French and Greek partners, on this great FDI adventure," commented Pierre Eric Pommellet, CEO of Naval Group.