Russian Navy's new Borei-A ballistic missile submarine launched
Russian Navy's new Project 955A Borei-A-Class nuclear-powered ballistic missile submarine (SSBN) has been launched by Sevmash Shipyard, a division of United Shipbuilding Corporation (USC).
The new submarine Generalissimus Suvorov is the sixth vessel of Russia's 4th generation ballistic missile submarines and the third of the upgraded Borei-A class. The launching ceremony took place on 25 December and was attended by the Navy command, authority and industry representatives.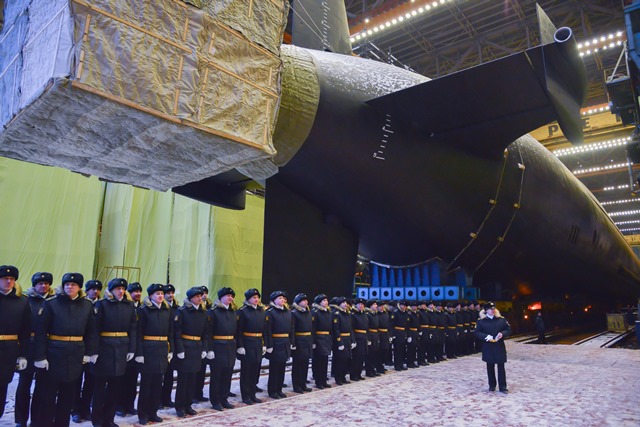 "This is our strategic argument. Nuclear submarine cruisers protect our country. […] I hope that the 'Knyaz' [submarine] family will accept the Generalissimus Suvorov as well. This submarine cruiser is planned to reinforce the Pacific Fleet submarine group," Navy commander Nikolay Yevmenov said.
The submarine was laid down in December 2014. After being put on the water, the new submarine will later start sea trials. If all goes according to the plan, the commissioning and hand-over to the navy will happen before the end of December 2022, according to the officials.
The first vessel of the Borei-A class submarine, Knyaz Vladimir, was delivered last June after several delays due to deficiencies found during sea trials.
A total of eight modernized Borei-A submarines are planned to be built at the Sevmash yard in Severodvinsk.
Last week, two new nuclear-powered submarines Knyaz Oleg and Novosibirsk also built by Sevmash joined the Russian Navy.
This year, Sevmash handed over to the Russian Navy's fleet three nuclear-powered submarines while two submarines were launched. Since its foundation, the company has delivered 136 nuclear-powered submarines.